How to get here | Contact
Our main phone is +506 2750 0775, however, it is better to email us unless you have an urgent matter. A reminder: the Sanctuary is closed Mondays.
Report an injured sloth that needs urgent care: +506 2750 0775
Book your tour: tours@SlothSanctuary.com
Book your guest room & Insider's Tour: ButtercupInn@SlothSanctuary.com
Media inquiries: feedback@SlothSanctuary.com
---

ARRIVING BY CAR

Driving time from San José takes approximately 4 hours. We recommend that you request GPS in your rental car. Enter destination as AVIARIOS DEL CARIBE. If GPS is unavailable, ask agent to highlight your route through San José to Highway 32 to the Caribbean (Limón).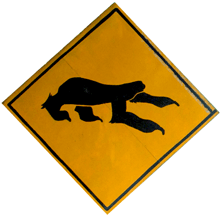 Follow green road signs to Limon.
Approximately 7 km past Limon, the road forks. Turn left, then come to a one-way bridge about 150 meters later.
Make a left and continue straight for about 31 km.
Just before our gate you will see a bus stop with a yellow and black sloth crossing sign.
The Sloth Sanctuary is on the left behind a green metal gate.
GPS coordinates:
Latitude     9.799565  Longitude -82.915112
ARRIVING BY AIR + BUS

> Flying in and out of Juan Santamaría International Airport (SJO) in San José:
If your flight arrives before noon, it is possible to get to the Sloth Sanctuary before nightfall. If the flight gets in after 12:00 noon, you'll need to stay in San José, then get a transport in the morning. Driving time from San José is approximately 4 hours.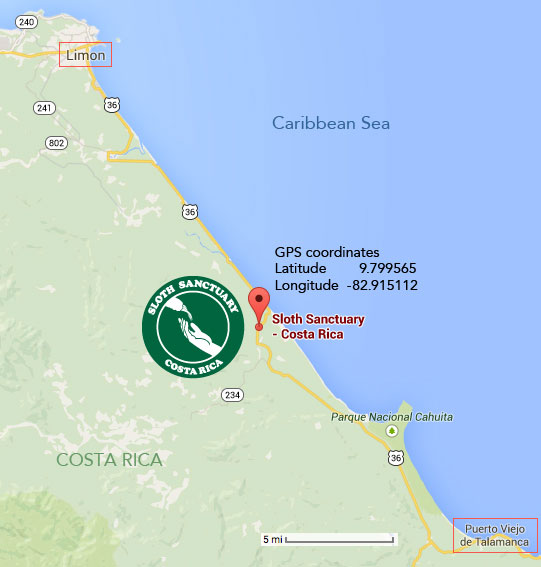 TRANSPORTATION TO/FROM PUERTO VIEJO
> Click here for excellent transportation information for tour visitors and guests at our Buttercup Inn.
Timing your arrival for tours and checking in at the Inn is important. Below is information that can help you plan your arrival:
Transfer bus companies Interbus and Easy Ride list hotels from which they pick up for your transfer to the Sanctuary and for your return to your hotel in San José. Tell them that you are traveling to Aviarios del Caribe/Sloth Sanctuary, 30 km south of Limon. If you are staying at a San José hotel that Interbus does not service, ask for the closest place to your hotel they will pick up from, then take a short taxi ride there.
> Flying in and out of Limon International Airport (LIO):
Nature Air has introduced daily nonstop flights from San José into Limon. Please visit NatureAir.com for details.
TAXI
When you are done with your tour and/or have checked out of the Inn, we can call a local cab driver on your behalf for transport to a nearby town. For your reference, fares from the Sanctuary to Limon are in the $25 range.
---
MAILING ADDRESS
Sloth Sanctuary of Costa Rica
P O Box 23-7302
Cahuita, Costa Rica