About us
Judy Avey-Arroyo grew up in Alaska where she met her globe-trotting Costa Rican husband, Luis Arroyo, in 1970.  They traveled to Costa Rica to introduce Judy to his family and to his beloved country. Falling in love with the wild Caribbean coast they bought 320 acres of land along the Estrella River near Penshurt, about 30 kilometers south of the port city of Limón. Their family and friends thought they were crazy to buy swampland, but Judy and Luis saw the potential of their little piece of paradise. In 1975 they had their land declared a "Privately-owned Biological Reserve" with the Costa Rican government. Returning to Costa Rica every school vacation, their dream summer home was completed in 1977.  They never intended on devoting their lives to the elusive and threatened animals. Then, they met Buttercup.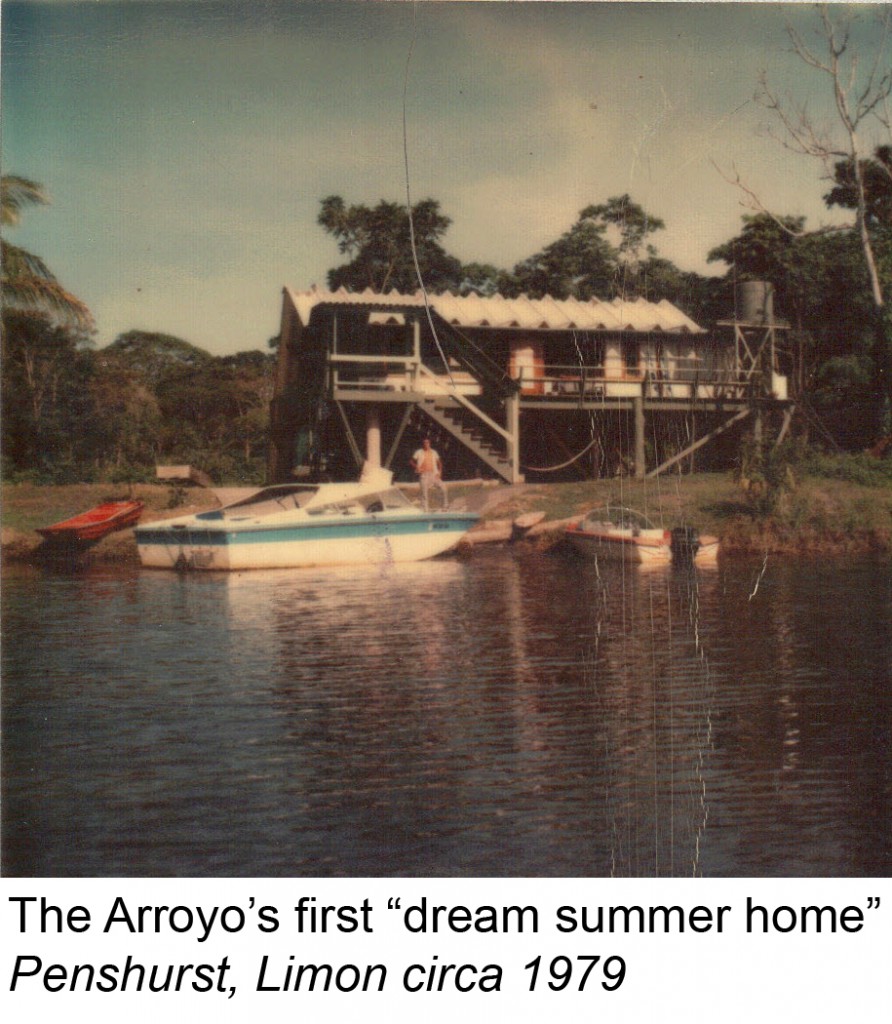 After moving permanently to Costa Rica in 1986, the Arroyo's bought a run-down restaurant outside of the capital city of San Jose. When it became a successful stop for tourists on their way to the Pacific coast, the Arroyo's sold it and purchased a large pontoon boat to offer tours of their jungle and island, showcasing over 325 bird species to intrepid visitors who ventured to the remote Caribbean coast.
In 1991, a deadly 7.6 magnitude earthquake struck near Limón, destroying the family's home and putting an end to their popular riverboat bird watching tour. Undaunted, the Arroyo's rebuilt their home and added a small hotel. Their destiny changed forever when, shortly after the inauguration of the hotel, three young neighbor girls brought them a wee surprise – an orphaned three-fingered baby sloth.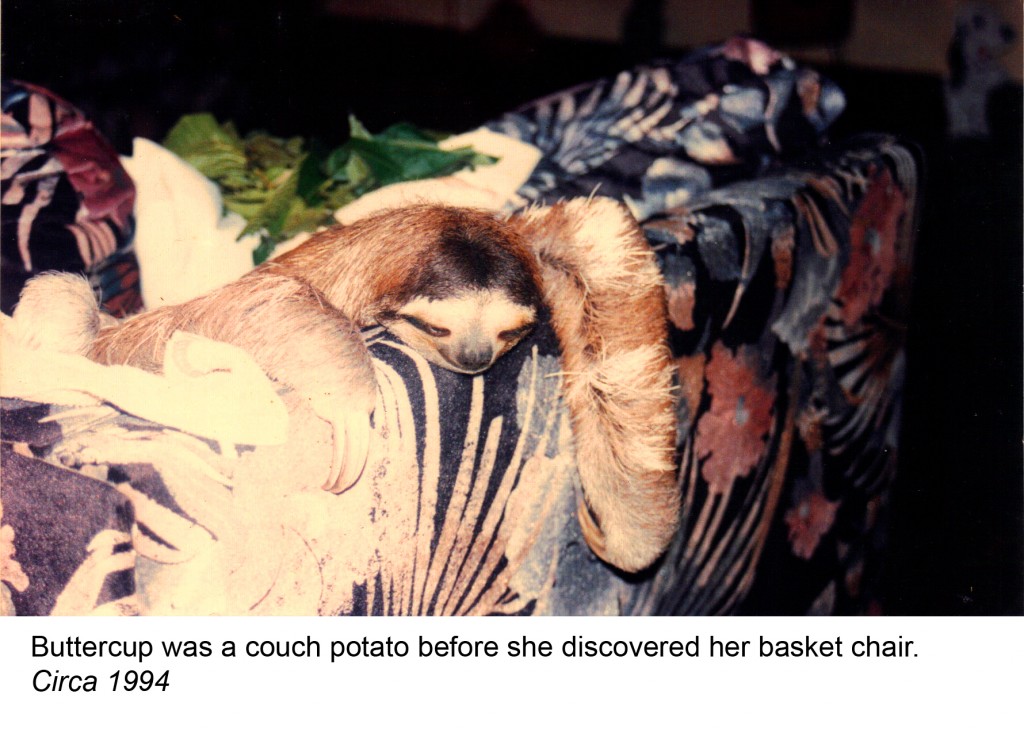 Luis and Judy called the San José zoo for help. The zoo said they didn't know anything about baby sloths and essentially said "You're on your own and good luck"! Another rescue center on the Pacific coast said pretty much the same thing, so the Arroyo's settled in with their precious charge, and armed with lots of common sense, began feeding her the leaves that the wild sloths in the trees in their forest ate. Today, the 21 year-old Buttercup, a long-limbed, sweet-faced Bradypus, or three-fingered sloth, greets visitors to the sanctuary, perched in her wicker hanging basket-chair, occasionally delighting in what seems to be a gingerly choreographed display of her flexibility and supreme balance: hanging upside down, crossing her long, graceful arms in impossible Ti-Chi positions. Buttercup takes her title of Ambassador very seriously as she meets and greets visitors to the sanctuary.
Two years after Buttercup's arrival, a local bus driver brought the Arroyos another infant sloth; this one a fiery-haired two-fingered sloth, or Choloepus.
People found out that Luis and Judy cared about sloths and that they knew a little bit about them. From there it snowballed! The Arroyos gave in to the sloths and their needs and became an authorized sloth rescue center in 1997.
In 2004, their daughter, Ursula, and her four sons joined them permanently and now are an integral part of the daily management of the sanctuary. Their other daughter, Judie, and granddaughter Carlie, join the family every summer to keep up with goings-on of the sanctuary.
Since Buttercup, the Arroyos have rescued over 500 two- and three-fingered sloths; 149 are permanent residents of the sanctuary, nine are infants in incubators. One hundred and two sloths of both species have been rehabilitated and returned to their home in the forest. Most of the permanent residents were infants when they arrived, and without their mother's care and teaching, are unprepared for life in the forest. At this time we do not know enough about their habits in the wild to teach them what they need to know to be successful in the forest. The other residents are physically unable to survive in the wild because of amputations, injuries to hands and feet from high-tension wires, and several have lost their sight.
In 2003 the Sloth Sanctuary formed a very important alliance with Daryl Richardson, owner of the Dallas World Aquarium in Dallas, Texas. Over the years Daryl / DWA has played an integral part in the Sanctuary's conservation and education programs, supporting their work with sloths through the years. 6 hand-reared sloths, 3 Bradypus variegates and 3 Choloepus hoffmannis, from the sanctuary are now at home in the beautiful Aquarium.  Leno, a handsome Bradypus male holds court in his open-air grove of trees at the Aquarium, charming   visitors. He has been photographed by thousands of new sloth-admirers, and many a famous visitor, who think he is quite special!
The Sloth Sanctuary is now entering an exciting new phase that focuses on increasing their knowledge of these extraordinary and mysterious animals. In order to improve the current rehabilitation program and to develop conservation strategies for the future, a long term research project is beginning this year looking at exactly how sloths survive in the wild. The sanctuary is proud to announce the partnership with Rebecca "Becky" Cliffe, a Manchester PhD student who will be conducting this four-year program here at the sanctuary and in the field. This research will involve the use of GPS technology and state-of-the-art data loggers called Daily Diaries, invented by Professor Rory Wilson of Swansea University,  to identify factors such as ranging patterns, habitat preferences, natural diets, and a myriad of other new information vital to the success of a future reintroduction program.