Van transport from SJO
We are pleased to announce that Cielo Azul offers van transport with professional drivers between the airport in San José (SJO) and the Sloth Sanctuary. Depending on road construction, the 204km driv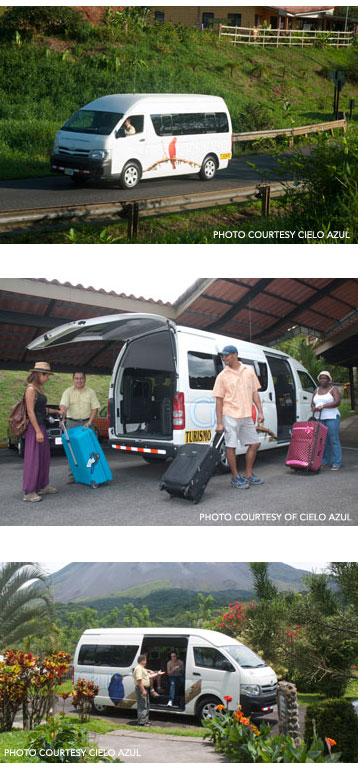 e takes an average of 4.5 hours. Reservations required. See Terms & Conditions below.

COST
$260 USD each way per booking for up to six passengers traveling together in one van.
RESERVATIONS
ventas@cieloazul.co.cr
(506) 2290-8909
AIRPORT ARRIVAL / FIND YOUR DRIVER
Juan Santamaría International Airport (SJO)
After exiting your plane, follow signs to Immigration / Baggage Claim and take the escalator down one level. Claim your luggage and proceed through the Customs checkpoint. Give your Customs declaration form to an agent and your luggage will then pass through a conveyor with X-rays.
After clearance, exit the building to the immediate left and look for a Cielo Azul / Sloth Sanctuary representative holding a welcome sign bearing your name. From here, you are in good hands with Cielo Azul. Your driver can make a quick stop at a local grocery market for bottled water & snacks for your journey.
CIELO AZUL
Customer Care: (506) 8876-4029
Weekdays: Monday–Friday 8AM–6PM
Sales Dept • Marcela or Nazaret  ventas@cieloazul.co.cr
Weekends: Saturday & Sunday 6AM–4PM
Operations Dept • Owen or Edgar trafico_uruca@cieloazul.co.cr
TERMS & CONDITIONS
CONDITIONS OF CARRIAGE
Our itinerary and the following Conditions of Carriage constitute a contract between you, the passenger, and Agencia de Viajes Cielo Azul S.A. (hereinafter referred to as "Transportes Turisticos Cielo Azul") and apply to all transportation provided by Transportes Turisticos Cielo Azul in Costa Rica. Transportes Turisticos Cielo Azul is responsible for ground transportation only. Agents: Price is net non-commissionable; passengers reserve directly.

RESERVATION & PAYMENT POLICY
A reservation and full payment in advance are required for Transportes Turisticos Cielo Azul to fulfill your transport. The reservation must specify passenger names and number of passengers, date of service, pick-up location and drop-off destination. Please note: Even if there is available space on a vehicle, passengers without reservations are not allowed to board.
CANCELLATION, CHANGE & REFUND POLICY
You may change/cancel your reservation without penalty if made 48 hours prior to your first transport date. You must make your cancellation request in writing, and when you receive written acknowledgement from Transportes Turisticos Cielo Azul, the cancellation will be effective. Transportes Turisticos Cielo Azul will not refund payment for cancellations made within 48 hours of your reservation time. No refunds given for no-show reservations or unused service. Please note: Our Department monitors our flight's estimated time of arrival. Even if your flight is delayed, the driver will meet you at the time your flight is estimated to arrive.
WHEELCHAIRS
Transportes Turisticos Cielo Azul S.A. can accept motorized and manual wheelchairs on board. The wheelchairs need to be folded and stowed. Please advise at the time of reservation if you have mobility needs.

IN CASE OF INJURY
All of our drivers are trained in basic First Aid; however, in case of emergency, our driver or representative must immediately call 911 for medical assistance. Injured passengers may be transported by Cruz Roja Costarricense.
DISCLAIMER
Transportes Turisticos Cielo Azul will not be held liable for loss or damage to carry-on items not properly supervised by the passenger. This includes carry-on items incorrectly placed inside the luggage compartment.
---
The Sloth Sanctuary of Costa Rica is not an agent of, affiliated with, or receives commissions from Transportes Turisticos Cielo Azul.