Insider's Tour
Your Insider's Tour begins with an informative, relaxing canoe tour with Cali, our expert boatman/guide, on the part of the Estrella River that fronts our property. Cali has been with the Sloth Sanctuary nearly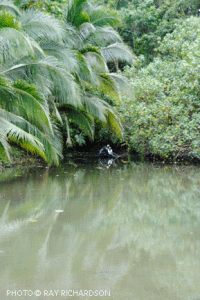 40 years. A large, stable canoe will carry you through exuberant riverine vegetation where you will spot native birds along the way, and perhaps our resident nutrias (Costa Rican River Otters).
Your next stop is the Buttercup Tour, where you meet up with one of our Sloth Experts and for an introduction to the wonderful world of the sloth. Learn in-depth about the history of these enigmatic animals and the importance of the sloth to the Costa Rican ecosystem.
Next, take a private, behind-the-scenes visit to our Slothpital/clinic. Your personal guide takes you to meet our very special permanent resident sloths and hear their stories. Then you will visit and be able to photograph the tiniest sloth residents, our incubator babies. You will also meet the internationally-known Buttercup for a fun photo opportunity. You may continue on with an optional self-guided walk through our well-maintained jungle trail (seasonally available; please ask your guide.)
Insider's Tour—Two options: Breakfast Tour or Lunch Tour

Breakfast Tour
7:45 am Arrival – coffee
8am to 9am – Breakfast with Buttercup
9am to 10am – Buttercup Tour with other guests
10am to 11am – Behind the Scenes & NICU Incubator Babies Nursery with your own personal guide
11am to 12pm – Canoe Ride with Cali
Lunch Tour
10:45am Arrival at Sloth Sanctuary
11:00 am to 12:00 pm – Buttercup Tour with other guests
12:00 pm to 1 pm – lunch with Buttercup
1:00 pm to 2 pm – Canoe Ride with Cali
2:00 pm to 3 pm  – Behind the Scenes & NICU Incubator Babies Nursery with your own personal guide
*The order of your tour may be different than listed, depending on weather conditions, etc.
 Important information

Insider Tours require pre-payment to secure your requested date.
Insider Tours have a maximum of 6 participants (unless family or friends traveling in larger group)
Due to the limited quantity, Insider Tours are in high demand and we recommend reserving at least 3-6 months in advance to avoid disappointment.
Reservations are held for 24 hours after the PayPal invoice is issued. If the invoice remains unpaid after 24 hours, the space is released.
Please allow sufficient time for transportation to the Sanctuary and arrive at least 15 minutes in advance of the tour start time.
Each tour includes either breakfast or a light lunch with Buttercup.
Duration: approximately 4 hours.
We are unable to issue refunds for this special tour. If you are unable to attend your scheduled tour, we will reschedule within 1 year of your original date based on availability.
Admission
Adults & children aged 11+: $150 each
Children 10 and younger: $75 each

To make your reservation: Contact Us
The Sloth Sanctuary of Costa Rica truly thanks you for choosing the Buttercup Tour. Your generous contribution/donation helps provide food, veterinary care and more for our sloths. It costs $400 annually to feed one adult sloth, and $10 for just one can of imported goat milk for one tiniest infant sloth. Your support makes a significant difference toward the sustainability of the Costa Rican rainforest.