A fun, interactive introduction to sloths: how they live, why they are unique and how human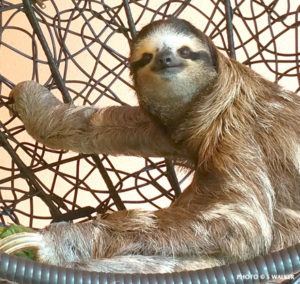 encroachment affects them. You will meet sloth rescue Nº 1, Buttercup, and see sloths in enclosures within the Learning Center. You might also see a wild sloth among other creatures during your 45-minute canoe ride to experience the sloths' habitat. The sturdy fiberglass canoe fits six guests comfortably, and there no need to paddle. Your boatman, a local guide, will glide you along the shallow Estrella River to see protected lowland rainforest flora and fauna.
Entire tour duration: about 2 hours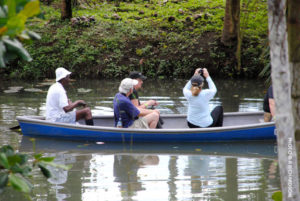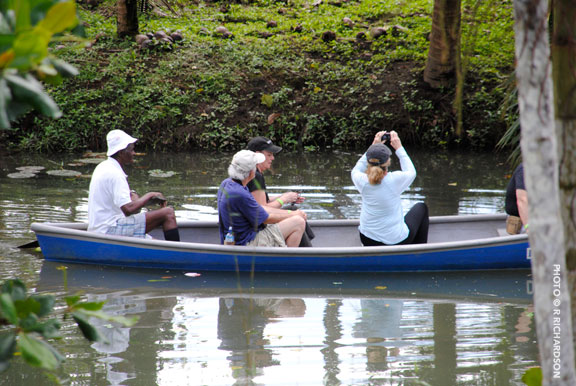 $30   Adult/Teen  age 13+
$15   Child  age 5–12
n/c    Young child  up to age 4
Age 12 and younger must be accompanied by adult
Arrive 20 minutes early to register before Buttercup Tour begins at
8:00AM / 9:00AM / 10:00AM / 11:00AM / 12:00PM / 1:00PM / 2:00PM
BUTTERCUP TOUR / GROUPS OF 20 OR MORE
For 20 or more visiting together, send details to Tours@SlothSanctuary.com. We will check availability then invoice you via PayPal.
$25 for each adult in your group
$22 for each student in your group with school or university ID
We take pride in hiring local Costa Rican staff. The tour guides are bilingual in English & Spanish, but some of the boatmen are not fully bilingual. If your boatman can't answer the questions you might have, please feel free to ask us when you return to the dock!
Though you will see sloths close up, only Sanctuary staff can touch or hold sloths. We understand that many sloth lovers dream of holding a sloth, but it is stressful and potentially harmful for a sloth to be held by a stranger.

NO PETS! NO MASCOTAS! Do not bring your dog. Do not leave pets in car or tie up outside. Service animals welcome, kindly contact us in advance.

Questions? ContactUs@SlothSanctuary.com
Your admission/donation provides care for rescued sloths. Thank you for your support.