Visiting the Sanctuary
Coming to see sloths in person? Excellent! A few quick dos and don'ts, though:
DO bring plenty of purified bottled drinking water to stay hydrated.
DON'T bring pets. NO PETS Don't leave your dog in the car. Don't tie up your animal.
DO bring your camera, sunscreen, rain poncho, sun hat, closed toe shoes.
FAQ
May I volunteer or work at the Sloth Sanctuary?
Do you have a secured parking area where we can leave our luggage in the car?
Can you prepare a vegan / vegetarian / gluten-free / no-salt meal?
Why does the Insider's Tour cost more than the Buttercup Tour?
When is the best time of year to visit the Sanctuary? What's the weather?
What is your change/cancellation policy?
Can I reserve the Buttercup Tour?
What should I pack for a visit to the Sanctuary?
What other activities can I do near the Sanctuary?

May I volunteer or work at the Sanctuary?
We have no volunteer or work opportunities at the Sanctuary. If you would like to volunteer with sloths and other Costa Rican wildlife, we suggest searching online. Thank you for your interest! top of page

May I hold a sloth?
Sorry, no: it's bad for sloths. If handled by unfamiliar people, the sloth has a stress reaction of tachycardia (abnormally high heart rate) that weakens the heart muscle, a cause of premature death. Also, humans are carriers of foreign microbes and allergens that can compromise the sloth's immune system. We know many sloth lovers dream of holding sloths, but since it is detrimental to the animals' well-being, contact is limited to regular handlers. Thank you for understanding!
And please avoid roadside scammers who let you hold a sloth for a photo. They simply knock an sloth out of its tree, exploit it for quick money, then abandon the animal and allow it to die from lack of nutrition. When the next tourist comes along who wants to hold a sloth for a photo, they repeat this inhumane practice. It's literally the opposite of the work we do. Please do not perpetuate this cruelty. top of page

Do you have a secured parking area where we can leave our luggage in the car?
Yes! Our facility is gated and enclosed and the parking area is secure and in close proximity to your tour. However, as with all locations in Costa Rica, please lock your car. top of page

Sloth Sanctuary Wish List
Thank you for helping us serve the sloths under our care. For any wish list items, you may bring them when you visit the Sanctuary or you may send to Sloth Sanctuary, P O Box 2141, Winter Park FL 32789 USA
• Catac Foster Feeding Spare Teats  *ST1*
Available from the UK manufacturer Catac here / Buy in the US here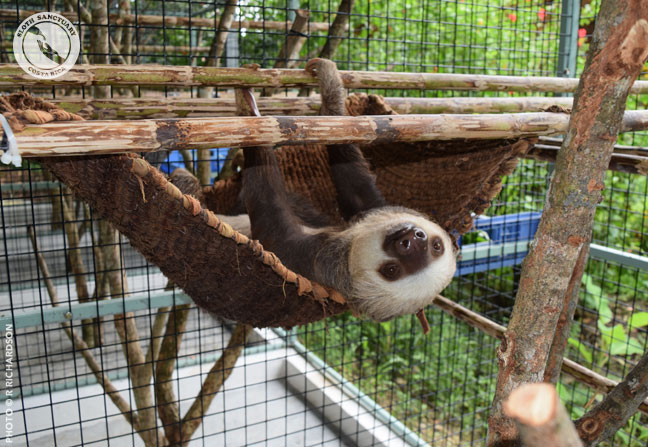 • IKEA® Toftbo Bathmats to create hammocks for Choloepus housing
This is part of the enrichment program for our rescued Two-fingered sloths. Interestingly, Bradypus are not interested, but Choloepus enjoy these hammocks in their enclosures. top of page

Can you prepare a vegan / vegetarian / gluten-free / no-salt meal?
Yes. The Insider's Tour includes either a light breakfast or lunch and Buttercup Inn room rates include breakfast. If you have a dietary request, please advise us at the time of booking so we can make sure to note your reservation. top of page

Can I drink tap water there?
Not recommended. Stay hydrated, because it's hot here! We suggest you bring plenty of your own purified bottled drinking water. Purchase on your way to the Sanctuary at any of the local markets. One recommended market is Auto Mercado, with various locations beginning in San José.
At the Buttercup Inn, each guest receives one complimentary bottle of purified drinking water. Additional bottles are available for purchase in the Gift Shop. Tap water is OK for brushing teeth or taking a shower. top of page

Why does the Insider's Tour cost more than the Buttercup Tour?
The Insider's Tour includes a more intensive 4-hour "behind the scenes" view of sloth care and rehabilitation as well as a light meal. The group size is just 6 participants for a more personal experience. Many guests have told us it is the highlight of their Costa Rican holiday.
For guests with limited time or budget, the 2-hour Buttercup Tour is a superb way to meet the sloths and learn about their plight in the diminishing rainforest. top of page

Your kitchen is open for breakfast and lunch. What should I do for dinner?
Because our kitchen is closed in the evening and there are no stores nearby, explore Cahuita or Puerto Viejo for dinner. Sobre las Olas (closed Tuesdays), Amimodo and Café Viejo are popular. We can arrange for a taxi to/from town if you make your request at reception before 3PM. top of page
When is the best time of year to visit the Sanctuary? What's the weather?
There are two main "seasons" in Costa Rica. In our Caribbean coastal area, they are the High/Dry Season: February, March, September & October and the Green/Rainy Season: November–January, April–August. Our home page also has a current weather report display; see the right side of the page. top of page

I need to change/cancel my Insider's Tour/Buttercup Inn reservation. What's your policy?
Payment is final; we cannot make a refund. If you need to cancel or change your visit, email us right away at ContactUs@SlothSanctuary.com. We will make every effort to reschedule within two years of your original arrival date, based on availability. If you cannot reschedule within that period, your payment will be considered a donation to the Sloth Sanctuary of Costa Rica. top of page

How can I get there and back from my cruise ship in Puerto Limon?
There are always cabs waiting at port when a ship arrives; cost is about $35 USD from Puerto Limon to the Sanctuary. Ideally, prearrange your return to port with your initial cab driver. If you are taking the Insider's Lunch Tour, have the driver return for you at 3:15PM.
If by chance you cannot arrange for a cab, we can take you back to port in our van. Make your reservation when you check in for your tour or in advance at Tours@SlothSanctuary.com. We charge $40 USD per reservation; gratuity is discretionary. top of page

Can I reserve the Buttercup Tour?
No. We don't take individual reservations for the Buttercup Tour. Please arrive at least 15 minutes in advance of the tour time to register and pay.
For a group of 20 or more, you may make a group reservation and pay in advance ($25 USD per person). If your group needs to change or cancel, you must notify us at Tours@SlothSanctuary.com within 48 hours of your scheduled tour time. If you cancel within less than 48 hours or are a no-show, there is no refund. Your payment will be considered a donation to the Sloth Sanctuary of Costa Rica. top of page
What should I pack for a visit to the Sanctuary?
Comfortable closed-toe shoes, rain gear, a sun hat, sun glasses and your camera! Some people also bring a diary or sketch pad to record their Sloth Sanctuary experience in a creative way. top of page
What other activities can I do near the Sanctuary?
Please check with our friends at Cahuita Tours. Open every day, 7AM–12PM and 2–5PM. Contact CahuitaTours@gmail.com. They offer a range of fun activities for all types of travelers! top of page