Support the sloths
GENERAL DONATIONS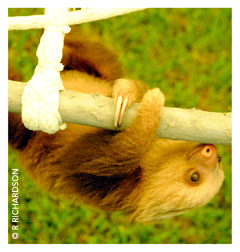 Privately owned by the Avey-Arroyo-Rochté family, the Sloth Sanctuary of Costa Rica is not yet recognized as a non-profit organization. Located inside the 300-acre Aviarios del Caribe Private Wildlife Reserve, we are legally classified with the Costa Rican government and MINAET (Ministry of the Environment, Energy and Technology) as a wildlife reserve.
PayPal is our preferred method to receive donations (use Donate button below). You do not need a PayPal account to pay by PayPal; just a credit card.
To donate by check, please send to our US partner, the Dallas World Aquarium. Please make payable to the Sloth Sanctuary of Costa Rica. Mailing address:
Judy Avey-Arroyo, Dallas World Aquarium, 1801 N Griffin St, Dallas, TX 75202 USA
If you have donation questions, please inquire at feedback@SlothSanctuary.com.
Thank you for your support of the Sloth Sanctuary of Costa Rica.

---
How your donations benefit the Sloth Sanctuary
$13 USD: One can of nutritional formula (or a 12 oz. can of Meyenberg Instant Powdered Goat Milk) to feed one orphaned/abandoned baby sloth for one week.
$20 USD: One 25 lb. bag of fresh Cecropia leaves to feed 17 Bradypus sloths for 1-1/2 days.
$25 USD: Two soft stuffed toys to act as a surrogates for tiny orphans to hug as they would their mothers. Even adult sloths like to cuddle stuffed toys for comfort.
$50 USD: Animal carriers to transport injured sloths from the field to our veterinary hospital.
$100 USD: One week of Cecropia leaves & pods harvesting for our resident Bradypus sloths.
$145 USD: Plant an Almond Tree in the Sanctuary orchard to celebrate Earth Day every day. Your name is carved on a plaque on display at the Sanctuary. Consider donating to honor a wedding, retirement, new baby, anniversary or in memoriam of a lost loved one. We'll gladly put the name(s) of your honoree(s) on the plaque.
$550 USD: One month of vegetables to feed our baby & juvenile Choloepus sloths.