Support us
GENERAL DONATIONS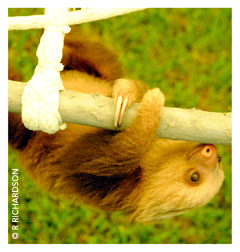 Privately owned by the Avey-Arroyo-Rochté family, the Sloth Sanctuary of Costa Rica is not yet recognized as a non-profit organization. Located inside the 300-acre Aviarios del Caribe Private Wildlife Reserve, we are legally classified with the Costa Rican government and MINAET (Ministry of the Environment, Energy and Technology) as a wildlife reserve.
PayPal is our preferred method to receive donations (use Donate button below). To donate by check, please send to the Dallas World Aquarium, our US partner. Your check may be made payable to the Sloth Sanctuary of Costa Rica then sent to: Judith Avey-Arroyo, Dallas World Aquarium, 1801 N Griffin St, Dallas, TX 75202 USA
¡Muchas gracias!

---
How your donations benefit the Sloth Sanctuary
$13 USD: One can of nutritional formula (or a 12 oz. can of Meyenberg Instant Powdered Goat Milk) to feed one orphaned/abandoned baby sloth for one week.
$20 USD: One 25 lb. bag of fresh Cecropia leaves to feed 17 Bradypus sloths for one and a half days.
$25 USD: Two soft stuffed toys to act as a surrogates for tiny orphans to hug as they would their mothers. Even adult sloths like to cuddle stuffed toys for comfort.
$50 USD: A new animal carrier to transport injured sloths from the field to our veterinary hospital.
$100 USD: One week of Cecropia leaves & pods harvesting for our resident Bradypus sloths.
$145 USD: Plant an Almond Tree in the Sanctuary orchard to celebrate Earth Day every day. Your name is carved on a plaque on display at the Sanctuary. Consider donating to honor a wedding, retirement, new baby, anniversary or in memoriam of a lost loved one. We'll gladly put the name(s) of your honoree(s) on the plaque.
$250 USD: A continuous supply of X-ray chemicals, developers, fixers.
$550 USD: One month of vegetables to feed our baby & juvenile Choloepus sloths.