"Never doubt that a small group of thoughtful, committed citizens can change the world. Indeed, it is the only thing that ever has."- Margaret Mead
This week we would like to shine the spotlight on one of our most dedicated supporters and followers, Lucy Strausbaugh. Lucy has been bringing small student groups from Notre Dame Preparatory School for volunteer experience since 2013, and over the past few years she has generously donated both funds and her own time to raise awareness of sloth conservation. This week, she arrived at the sanctuary having purchased a brand-new digital microscope and hand carried it  from the US to us here in Costa Rica for use in our Sloth Hospital! This microscope will be a much needed diagnostic tool in our clinic, allowing us to analyze samples, identify parasites and determine the best course of treatment.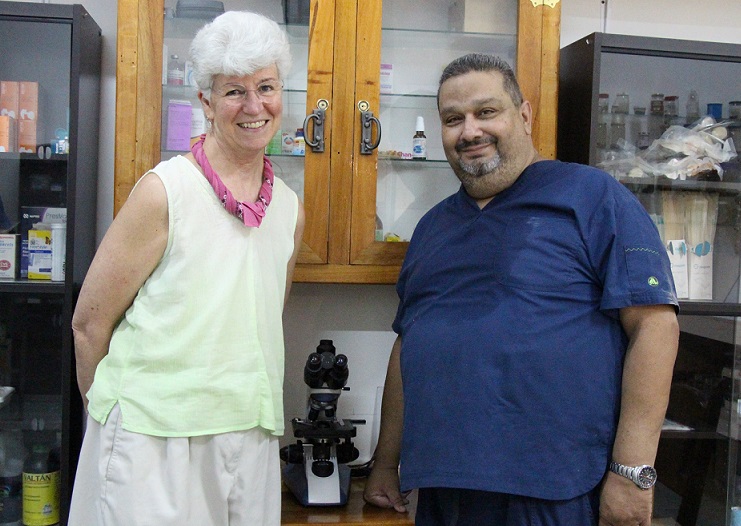 We decided to ask Lucy a few questions about her latest donation and the experience of working with us here at the sloth sanctuary:
How did you first get involved with the Sloth Sanctuary?
Lucy: Like everybody else on the planet, I saw that youtube video that went viral in 2011. The sloths simply spoke to my soul and I just had to come and visit.
What was that first experience like for you?
Lucy: Coming to the sanctuary for the first time was simply magical. Transformative and magical.
How did the volunteer experience influence your students?
Lucy: Working with the sloths was life-changing for many of the girls. I have brought students who had planned on being nurses and are now going to work in wildlife research – they changed their majors in college based on the experience that they had at the sanctuary!
Tell us about your latest donation and how you managed it!
Lucy: I contacted a lot of organizations to see if anyone would be interested in donating a microscope to the sanctuary, and although there was a lot of interest initially, nothing turned up. A week before I was due to fly out Costa Rica, I decided that I wasn't going to let anything stand in the way of the sanctuary getting the equipment that it needs in order to help these amazing animals. It wasn't an easy decision as I don't have a lot of money to spare, but as soon as I had made the transaction I simply knew that I had done the right thing.
{ 0 comments }