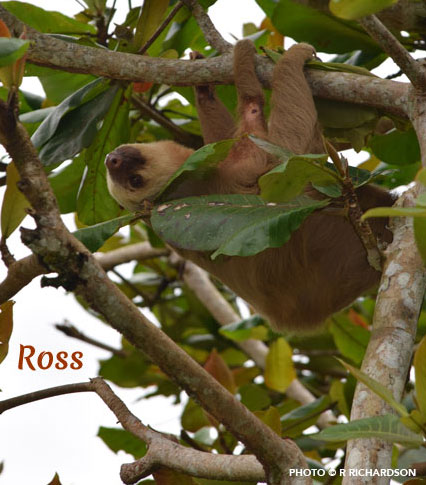 The single most gratifying act at the Sanctuary is the release of a rescued, rehabilitated sloth. Take Ross, for example, brought to us on August 5th by a compassionate and swift-acting family in Filadelfia, Beverly, Limon. They had spotted a Choloepus in distress, limply hanging by one arm, entangled in a barbed wire fence. They delicately placed the sloth in a laundry basket and drove it to the Sanctuary, naming it Rosita along the way. Sanctuary veterinarians Dra. Camila Dünner Oliger and Dr. Gabriel Pastor Nicolai assessed it, determined it to be a juvenile male and revised his name to Ross.
Ross was in shock and severely dehydrated, probably from suffering on the barbe
d wire for more that 24 hours. His entire right arm was bruised, swollen and infected. The vets had to anesthetize him to clean, treat and bandage his wounds. They prescribed an intensive regimen of anti-inflammatories, antibiotics, vitamins and immune stimulants. He required weekly dressing changes with a total of five anesthesia sessions until his arm had fully healed and he was ready for rehabilitation. He regained strength and mobility in his arm during consistent and regular climbing practice, then it was time for his pre-release test.
We have a special Almond Tree (Two-fingered sloths' fave leaves) enclosure along the river where it's easy to observe a pre-release candidate. Ross did great! He climbed up naturally, then hung out for a while, enjoying the familiar environment of a tree. He showed us he was ready for complete freedom.
So we returned him to his habitat in Beverly because of his knowledge of his mother's home range. We noted an abundance of trees and other wild sloths, which would give Ross the best chance for survival. Habitat fragmentation due to development is detrimental to sloths' well-being. If they need to transfer to trees by crossing over barbed wire, power lines or areas with guard dogs, injury or death is highly likely. We were satisfied with Ross' enthusiasm as he climbed into a big Poró tree. On our way back, we saw a mother and baby sloth way
up in the canopy. Was she Ross' mother, perhaps? Muddy, sweaty, insect-bitten—it was all worth it for us, knowing Ross was back home.