"We have the duty to act for the welfare of any animal that comes to our hands. Even more so if this animal was put in that condition due to the impact that we, human beings, may have caused direct or indirectly. Without knowing, [this little sloth] will contribute to generate more and better knowledge, directly about veterinary care, and indirectly in the conservation of this wonderful species."—from our vet team, Camila & Gabriel
This week we bring you an essential side of the Sanctuary that the public does not frequently see: sloth veterinary care and surgery. We know you enjoy photos of sweet smiling sloths, but the reality is, when sloths are rescued due to injury or abuse, they often need immediate medical intervention upon arrival.
This is the story of Guadalupe, or Lupe for short, a tiny baby Choloepus. Our husband-and-wife veterinary team, Dr. Gabriel Pastor Nicolai and Dra. Camila Dünner Oliger were not advised of how Lupe was found or what had happened to her, but she was taken by her rescuers to MINAE Headquarters (Ministerio de Ambiente y Energía/Ministry of Environment and Energy), who then brought her to the Sanctuary.
After a first checkup, it was clear that she was in critical condition. Lupe was in a very large cardboard box with nothing in it but her. She was icy-cold (hypothermic—dangerously low body temperature), clutching her body with arms and legs due to the pain. She also presented extreme dehydration for the lack of food and water and was tympanic (severe gastrointestinal bloat and distended abdomen). That general discomfort caused her to curl into herself, hook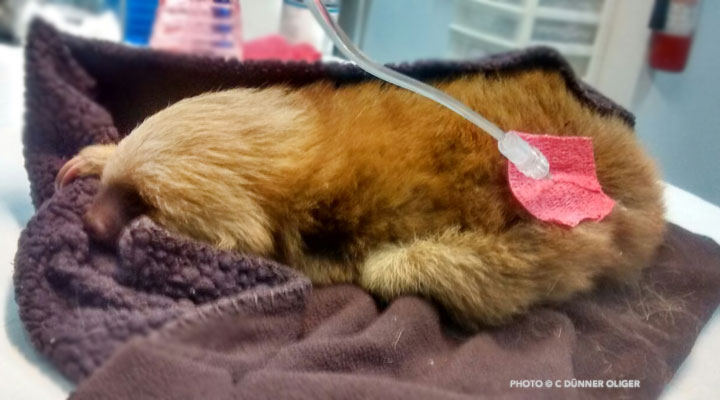 ing by accident one of the fingernails in her eye-socket. We don't know how long she was with her fingernail embedded in the socket, but thankfully it didn't damage her eye!
The vet team immediately began an intensive fluid therapy through the knee bone, since her veins were too small, that lasted for just over 10 hours. Then they catheterized her stomach to release the accumulated air (45 ml/1.5 oz!) due to the lack of food ingestion and began a pharmacologic therapy with an analgesic, an anti-foaming agent and a gastric transit promoter. She improved for a day but her abdomen dilated again and she was still in severe pain. In a second attempt to relieve her, what the catheter extracted surprisingly was urine! Not air, and in an anatomical region where the stomach is supposed to be. They then knew it was time to act.
In the absence of an X-ray machine and an ultrasound, the vets—in the middle of training students from the Escuela de Medicina y Cirugía Veterinaria San Francisco de Asís—decided to attempt an exploratory surgery. What they found was impressive: a distended bladder that used at least 50% of the abdomen! This condition caused it to paralyze and block urination and defecation. After emptying more than 190 ml/6.3 oz. of urine, it was encouraging to see how healthy the stomach and intestines were.
At this time, Lupe is improving and, although very lethargic, is beginning to eat again. The vets have been giving her blended leaves and goat milk, which is easier to break own in her stomach. Lupe has been given the best possible care available at the Sloth Sanctuary. Now it's up to Mother Nature to determine if she will survive … and thrive.