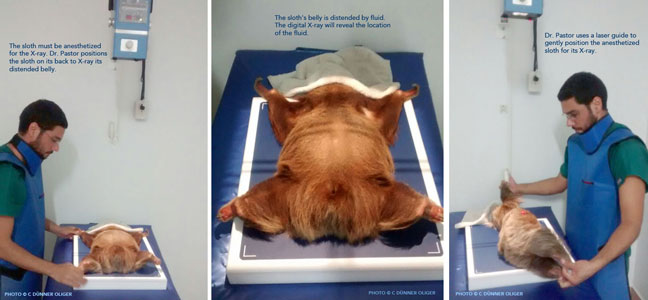 We are thrilled to announce the installation of a new digital X-ray machine at the Sanctuary. This equipment takes the quality of medical assessments to an entirely higher level, and veterinarian Dra. Camila Dünner wants to share why this is such exciting news:
"This digital X-ray allows us to see mainly hard tissue (bones), the distribution, texture and contours of a sloth's organs. Although all X-rays emit radiation, few expositions in time are worth this minimal risk, as this diagnostic tool shows us the inside of the body without resorting to invasive techniques.
A perfect example is Momo, an adult male Choloepus. One of our keepers reported Momo had not defecated or urinated in 5 days, a sure sign that something was wrong. We anesthetized Momo and could see he was having trouble breathing and a really distended abdomen. Through physical examination, we determined there was excess fluid in his abdomen. But exactly where was this fluid building up? In his stomach? His bladder? This is how the X-ray makes a huge difference. The first radiograph of his abdomen clearly showed his enlarged bladder, obstructed, which in turn was compressing his thorax. Armed with this specific information, we treated this obstruction without surgery or even a puncture. As a result, his stomachs and thorax resumed to their normal positions and Momo's condition is back to normal.

You might remember Lupe, the baby Choloepus rescued in late August. At the time of her rescue we did not have the X-ray machine. She was in obvious distress with a distended belly. We had to puncture her abdomen several times and then go for an exploratory surgery, only to determine she had a bladder paralysis caused by spinal trauma. Being able to see inside by X-ray could have saved her from the physical stress of surgery and us the precious time to diagnose her condition. We would never have put her through surgery if we had been able to see her spinal trauma.

Another excellent piece of equipment recently purchased with donations will be an ultrasound scanner—arriving soon! Ultrasound is a painless way to see soft tissue texture and differentiation, blood flow, heart function and even pregnancy. These equipment upgrades allow us to perform focused medicine on our rescued and resident sloths, offering the best care available. They enhance our ability to respond to emergencies and to determine rehabilitation paths for both wild and rescued sloths."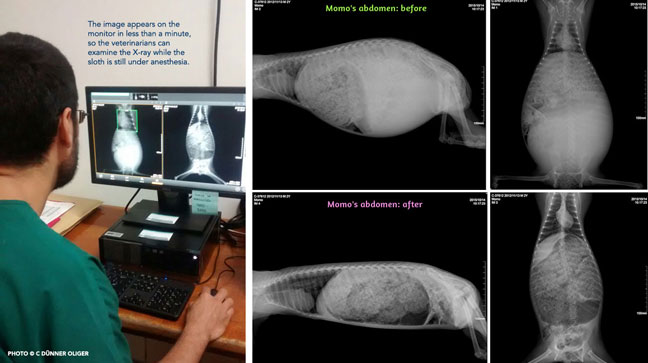 This equipment, purchased by generous donors, heralds a new era at the Sloth Sanctuary. Having the ability to optimally serve sloths' medical needs also contributes to research and conservation strategies. We are also grateful to SIRE in San José, Costa Rica, for their generosity, training and technical expertise. We are so honored that you, our supporters, have made this essential and cutting-edge equipment an integral addition to our "Slothpital".