We rescue, rehabilitate and research sloths with the goal of releasing them to their natural habitat. Those that cannot be released (disability or lack of essential survival skills) are provided with balanced nutrition, veterinary care, exercise, socialization with other sloths. The Sanctuary is 100% funded by proceeds from our tours, gift shop, Inn and generous donors from around the world.
VISIT
No general admission. A tour is required to visit the Sanctuary.
Buttercup Tour:
$30 per person,
2 hours. No advance booking required. Details
here.
Insider's Breakfast
or
Lunch Tour:
$150 per person, 4 hours. Advance booking and payment by PayPal required. Details
here.
All major credit cards accepted.
OPENING HOURS
Tours:
8AM–2PM, Tuesday through Sunday;
closed Mondays
and holidays.
Buttercup Inn:
Check-in 3PM/Check-out 12PM, Tuesday through Saturday. Advance booking required. Details
here.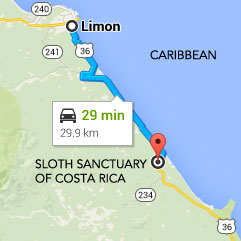 LOCATION
GPS Latitude 9.799565 Longitude -82.915112 • Route 36, about 30 minutes south of Limon • Maps & details here.
• If your flight arrives before noon, you should easily get to the Sloth Sanctuary before nightfall. If the flight gets in after 12:00 noon, you may want to consider staying in San José, then depart the next morning. Driving time from San José is approximately 4 hours. • Bus from Limon: Take the Limon-Cahuita-Hone Creek-Puerto Viejo bus. Ask the driver to stop at Aviarios del Caribe/Sloth Sanctuary. Look for the yellow sloth crossing sign at the bus stop near the Sanctuary gate. Approaching from the south, we are about 30 minutes north of Puerto Viejo; about 15 minutes north of Cahuita.
FAQ in brief—please read full FAQ here
Can I hold a sloth?
Can I volunteer or intern at the Sanctuary?
Do you need veterinary help?
What should I wear?
How can I learn more about sloths?
What can I bring to donate?
Media inquiries

Can I hold a sloth?
No. Only Sanctuary staff can hold or touch sloths. This is for their safety, to protect them from stress and microbes. This is also for your safety, as they are wild animals and although slow, can act in unpredictable ways. Details here.
Can I volunteer or intern at the Sanctuary?
No. While we appreciate your interest, we cannot have volunteers at the Sanctuary. In the past we had a program but terminated it for several reasons—sloth health being the main concern. Details here. For other wildlife volunteer opportunities in Costa Rica, search for the most current offerings here.
Do you need veterinary help?
No. We have veterinarians on staff and do not expect any openings in the future.
What should I wear?
Rain gear, sun protection, a hat, closed-toe shoes, insect repellent, SPF. It's the rainforest! Weather details here.
How can I learn more about sloths?
Over the past five years, UK researcher Becky Cliffe has been studying sloths at the Sanctuary. To learn about sloths from a scientific perspective, see her site and read our research blog posts here.
What can I bring to donate?
Meyenberg® Whole Powdered Goat Milk & Bene-Bac® Plus Pet Gel in 15gm syringes are perpetually at the top of our wish list. Antibiotics that are necessary to fight infections also deplete beneficial bacteria that is vital for a healthy digestive system. We supplement antibiotic treatment with Bene-Bac® to optimize all medical procedures. Bene-Bac® is also given to all newly arrived injured or orphaned sloths to offset stress.
Media inquiries
We request 60 days' advance notice to film at the Sanctuary and/or interview founder Judy Avey-Arroyo, researcher Becky Cliffe or any other Sanctuary staff. Please send details of the project and requested date(s) to Media@SlothSanctuary.com
---