BUTTERCUP TOUR  •  2 hours  •  hourly, 8AM–2PM, Tuesday–Sunday only
Adult or Child age 13 and over: $30 USD
Child age 5–12: $15 | Age 4 and under: no charge.
Children must be accompanied by an adult.
This 2-hour guided tour is a thorough introduction to sloths and what makes them unique. Includes a placid canoe trip to experience the sloths' rainforest habitat from a river perspective.

Advance booking not needed, unless for groups larger than 20. Up to 20 people per tour.

Please register at least 15 minutes before the top of the hour. Tours begin promptly at the top of the hour beginning at 8:00AM. Last tour at 2:00PM.
---
INSIDER'S TOUR  •  4 hours •  twice a day, Tuesday–Sunday only
Advance booking and payment are required.
Choose Breakfast Tour (8:15AM arrival) or Lunch Tour (10:45AM arrival).
Click to request tour date
Adult or Child age 13 and over: $150 USD
Child age 5–12: $75 | Age 4 and under: no charge.
Children must be accompanied by an adult.
The once-in-a-lifetime experience for the devoted sloth-fan—learn all about your spirit animal! The 4-hour guided small-size tour (6 people max.) offers more time to observe rescued sloths and ask all your questions. Includes a canoe trip to see rainforest flora and fauna from the tranquility of the river and a light meal al fresco on the dock.
Insider's Tour Gift Certificate: It's easy! Click here.
---
BUTTERCUP INN  •  Closed Sunday & Monday nights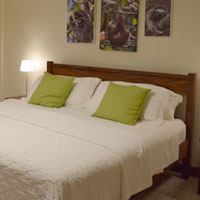 To stay at the Inn, you also need to book the Insider's Tour. One- or two-night stays only. Breakfast included in your room rate. Insider's Tour & Inn separately charged (sorry, no package option at this time). Click to request availability  
---
HOW TO GET HERE: Click for details
FLY:
From USA: Southwest Airlines to San José, Costa Rica
From San José:  Sansa Airlines to Limon. 2 flights a day
From Liberia, Costa Rica: Nature Air to Limon
DRIVE: Set GPS to Latitude 9.799565  Longitude -82.915112 Route 36
BUS/VAN:
Interbus: Take route Limon/Cahuita/Hone Creek/Puerto Viejo. Ask driver to stop at Aviarios del Caribe/Sloth Sanctuary. See a yellow sloth crossing sign near front gate.
---
TOP 5 MOST-ASKED QUESTIONS  • Click for detailed FAQ
Can I hold/hug/touch a sloth? No. A sloth's heart rate rapidly increases (tachycardia) from stress when held by strangers. This can weaken the heart muscle and cause premature death. Outsiders also bring foreign microbes and allergens than can compromise the sloths' immune systems. For their safety, please do not touch sloths here or anywhere else, including the wild. See why here.
Can I volunteer? No. We cannot have volunteers, even with veterinary or animal training education. We had a program in the past but terminated it for several reasons—sloth health being the main concern. Details here. For other wildlife volunteer opportunities in Costa Rica, search offerings here.
What should I bring/wear?
+ Plenty of your own purified bottled drinking water. Purchase on your way here at a local food market.
+ Rain gear, sun protection, sun hat, closed-toe shoes. Weather details here.
How can I learn about sloths? See our About sloths entries. Read our Research blog posts here.
Media inquiries We respectfully request 60 days' advance notice to film at the Sanctuary or interview Judy Avey-Arroyo. Email details of your project to Media@SlothSanctuary.com
---
Phone +506 2750 0775 • ContactUs@SlothSanctuary.com
Urgent sloth rescue: +506 2750 0775
If you find a sloth that needs rescuing, it is crucial to note the exact location where the sloth was found. Please take a snapshot of the GPS coordinates from your cell phone.
Si encuentra un perezoso que requiere ser rescatado, es muy importante que nos indica su ubicacion exacta. Se puede obtener la ubicacion exacta tomando una captura de pantalla de las cardinales GPS desde su celular.
Located on the southeast Caribbean side of Costa Rica, we are a
320-acre nature preserve dedicated to sloths. 100% funded by proceeds
from educational tours, the souvenir shop and onsite guest house,
as well as financial and equipment donations from around the world.